SUCCESS!!! EPA's prior conclusion of "no widespread or systemic" risk has been deleted from its final report on fracking
US Environmental Protection Agency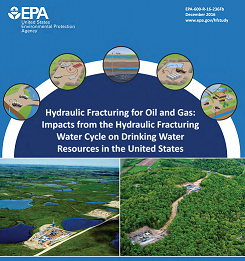 Since the first draft of the EPA's study on the impact of fracking on drinking water, DCS has been submitting data and comments, and organizing the testimony of experts. We argued vigorously against the conclusion that fracking does not impact our drinking water and for the inclusion of Dimock, PA, and other polluted locations, in the report.
Now, this long-term effort has succeeded!
Many of the comments and suggestions made by DCS have been taken into consideration in the final report.
More information on DCS's involvement with the EPA fracking study.
Register for an EPA webinar, on Wednesday, December 14 at 10am EST or 2pm EST, for a brief overview of the final report.
The EPA's prior conclusion of "no widespread or systemic" risk has been deleted from its final report on the impacts of fracking on drinking water.
Instead the EPA concludes that there is scientific evidence that hydraulic fracturing activities can impact drinking water resources under some circumstances. The report identifies certain conditions under which impacts from hydraulic fracturing activities can be more frequent or severe:
Water withdrawals for hydraulic fracturing in times or areas of low water availability, particularly in areas with limited or declining groundwater resources;
Spills during the handling of hydraulic fracturing fluids and chemicals or produced water that result in large volumes or high concentrations of chemicals reaching groundwater resources;
Injection of hydraulic fracturing fluids into wells with inadequate mechanical integrity, allowing gases or liquids to move to groundwater resources;
Injection of hydraulic fracturing fluids directly into groundwater resources;
Discharge of inadequately treated hydraulic fracturing wastewater to surface water; and
Disposal or storage of hydraulic fracturing wastewater in unlined pits resulting in contamination of groundwater resources.
In addition, the case studies of Dimock, PA, Pavillion, WY, and Parker County, TX have been included in the final report, as DCS has long argued they should be.
This is an important success in a long, on-going battle. With your involvement and support, we CAN prevail.