Submit your comments to the Coast Guard here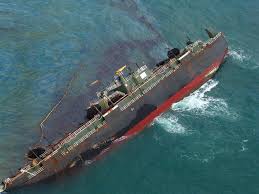 A forward from Zephyr Teachout:
This weekend I went out on the Hudson River with John Lipscomb, the boat captain of Riverkeeper, to look at where the industry wants to get free access to park its barges. Industry has a proposal for 43 new berths. We don't have a lot of time to speak out to protect the Hudson river from an onslaught of crude oil barges.
The only thing standing between industry getting its way is the Coast Guard, so we need to make sure the Coast Guard hears from as many people as possible.
The proposal for 43 new berths could turn the Hudson River – which thousands of people have worked decades to clean up and protect – into an industrial parking lot for crude oil.
We have only 16 days for public comment to stop this plan from moving any further. You can make a difference. Will you add your comment and ask the Coast Guard to conduct a full Environmental Impact Statement?
Comments to the Coast Guard are due DECEMBER 6 in this initial comment period. If enough people stand up to oppose these anchorages now, it's possible that the Coast Guard won't move to the next stage.
Your comments can be short, pick one of the below:
1) Ask the U.S. Coast Guard for a full Environmental Impact Statement.
2) Tell the Coast Guard how bad the barges would be for our local economy and thriving waterfronts.
3) Remind the Coast Guard that crude oil cannot be cleaned up in a moving river.
Please join the 3,300 communities, mayors and citizens who have commented against the anchorages so far. Every comment makes a difference.