at the Tusten Theater in Narrowsburg, NY
7 p.m. on Saturday June 25
To reserve seats please rsvp to: dcs@DamascusCitizens.org
Donations requested
Josh Fox and a panel after the film
The science on climate change is telling us we need to keep 80% of known fossil fuels in the ground. Unfortunately, money influences policy more than science these days so the fossil fuel industry is expanding.
As we face the challenging times ahead, we need strong communities that can stop the expansion of fossil fuels, transition to 100% renewable energy and work together to ensure our society is more loving and just.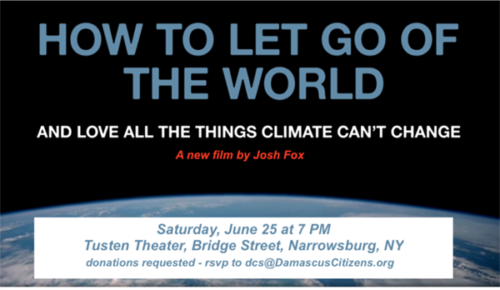 In HOW TO LET GO OF THE WORLD AND LOVE ALL THE THINGS CLIMATE CAN'T CHANGE Josh continues in his deeply personal style, investigating climate change- the greatest threat our world has ever known. Traveling to 12 countries on six continents, the film acknowledges that it may be too late to stop some of the worst consequences and asks, what is it that climate change can't destroy? What is so deep within us that no calamity can take it away?
We don't need fossil fuels. We can run our country on 100% renewable energy.
And communities can lead the way. All over the country people are coming together to say no to the expansion of extreme energy. They're saying no to more fracking and offshore drilling. They're saying no to bomb trains in their backyards. They're saying no to fracked gas power plants and pipelines.
They're also saying yes to democratic, renewable energy. They're saying yes to environmental and social justice. They're saying yes to love and community.
---
We really want to see you at the Tusten Theater, but if you can't make it we urge you to host a House Party with some friends to watch the HBO debut of the film on Monday, June 27.  See here: https://actionnetwork.org/event_campaigns/627-let-go-and-love-screenings-live-chat-w-josh-fox.