Fossil Fuel Company Super PAC Gifts Came Before Congress Ended The Oil Export Ban

"A handful of the biggest oil and gas companies and their CEOs poured millions into a super PAC created to boost the election of Senate Republicans as the industry made a successful lobbying effort to repeal the 40-year-old ban on oil exports.
In the second half of 2015, Senate Leadership Fund received $1 million from Chevron, $1 million from Petrodome Energy, $750,000 from Devon Energy Corporation and $500,000 from Freeport LNG CEO Michael Smith. The super PAC, run by former aides to Senate Majority Leader Mitch McConnell, also received $50,000 from Occidental Petroleum CEO Stephen Chazen, a frequent donor to Republican candidates and super PACs.
Senate Leadership Fund was created by former McConnell Senate and campaign aide Steven Law after Republicans won control of the Senate in the 2014 elections. During those elections, Law helped McConnell survive a primary campaign and win a general election campaign by running the pro-McConnell Kentuckians for Strong Leadership super PAC and the nonprofit Kentucky Opportunity Coalition. Law is also the head of American Crossroads and Crossroads GPS, the super PAC and nonprofit duo co-founded by Karl Rove.
Oil and gas companies had been waging an extensive lobbying campaign pressing Congress to end the ban on oil exports. Sen. Lisa Murkowski (R-Alaska) was the lead proponent of ending the ban in the Senate. The repeal of the ban was ultimately added to the end-of-year omnibus budget bill in December in exchange for an extension of subsidies for renewable energy sources like solar and wind."
U.S. Lifts 40-Year-Old Ban on Oil Export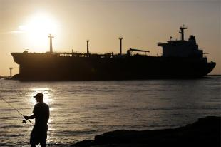 "The United States today lifted a 40-year-old ban on export of oil, thus paving the way for energy deficient countries like India to open up another frontier to import oil from a distant friendly nation.
The ban was lifted as President Barack Obama today signed into law the Omnibus USD 1.8 trillion spending package and tax bill for the current fiscal ending on September 30, 2016.
The move was welcomed by the industry, while pro- environmental groups were critical of it."