Poverty, race and unequal chemical facility hazards
By Center for Effective Government, January 2016
Download the full Report as a pdf.
And don't forget about Flint, Michigan.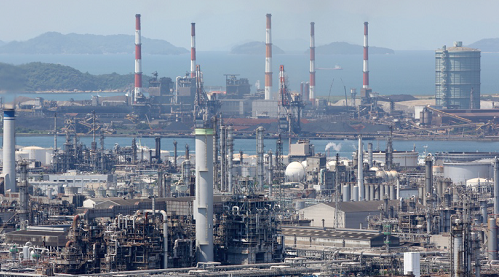 Executive Summary
Over 12,500 facilities in the United States use or store such large quantities of extremely dangerous chemicals that they must submit a Risk Management Program (RMP) plan to the U.S. Environmental Protection Agency (EPA) for responding to chemical disasters. People living at the fenceline of these chemical facilities face the greatest dangers. Nearly 23 million residents – 7.5 percent of the total U.S. population – live within one mile of an RMP facility. These communities would be hardest hit during a chemical catastrophe and would have the least amount of time to escape the dangers.
Findings
People of color and people living in poverty, especially poor children of color, are significantly more likely to live in these fenceline zones than whites and people with incomes above the poverty line.
People of color make up nearly half the population in fenceline zones (11.4 million), and they are almost twice as likely as whites to live near dangerous chemical facilities.
Of particular concern is that children of color make up almost two-thirds of the 5.7 million children who live within one mile of a high-risk chemical facility in the United States.
People of color living in poverty are significantly more likely to live in fenceline zones than whites not living in poverty. The greatest disparities are among poor children of color. For example, poor black and Latino children are more than twice as likely to live in fenceline zones compared to white children who are living above the poverty line.
Many children live and go to school near these dangerous facilities.
Nearly one in 10 U.S. schoolchildren (4.9 million) attends one of the 12,000 schools that are located within one mile of a dangerous chemical facility.
More than one-quarter (1.6 million) of children living in fenceline zones are children under the age of five, whose developing bodies are especially vulnerable to toxic exposure should a chemical release occur.
A disproportionate number of chemical facility incidents occur in neighborhoods that are predominately populated by people of color.
Facilities in communities of color have almost twice the rate of incidents compared to those in predominately white neighborhoods – one incident per six facilities compared to one incident per 11 facilities.
Over half of U.S. states received a "D" (poor grade) or an "F" (failing grade) in this report's scorecard. These states have large proportions of people of color and poor people living or attending school within fenceline zones – and these residents are more likely to live in fenceline zones than whites and non-poor residents.
Two states, Wisconsin and Massachusetts, received an F grade. Twenty-six states, primarily in the Southeast and Midwest, received D's.
The findings of this report reinforce results from numerous other studies that demonstrate that the health and safety of communities of color and people in poverty are severely and unequally impacted by living in close proximity to hazardous pollution sources and dangerous chemical facilities.