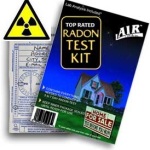 Until recently, the gas used in the New York City area had relatively low levels of radon. This started changing in late 2013 when gas from the Marcellus shale gas areas of Pennsylvania, West Virginia and Ohio started flowing into the gas distribution lines that deliver gas to you.
Download your radon test kit form
Dear Friends:
We are writing to ask if you would participate in a test for radon from the natural gas you use to cook on your stove. This year, Damascus Citizens for Sustainability (DCS), is sending this letter and turning to you in hopes of getting 50 or 100 tests conducted during this current month of March. There is a history to this citizen testing – tests have been conducted in each of the last three years measuring radon levels in NYC kitchens in the five boroughs and we are offering the tests this year. Your participation will provide this year's data.
Why is this important? Radon is a radioactive gas and a known carcinogen, a cause of lung cancer second only to cigarettes. Below is a fuller description of why radon is something you do not want in your home.
These tests are easy to accomplish. DCS is purchasing100 kits which cost $15 each. We would appreciate your paying for your test when you pick up the kit or order it from DCS. You follow the included instructions and leave the kit up for at least 3 days at breathing height (no more than 7 days). It is highly important that you do not open windows because the air movement will modify the test results and your test will have been done in vain. When your days of testing are over, you mail the test kit to the laboratory. Please carefully follow test starting and ending instructions as shown in the folded paper. The test company will send your test results back to you. Envelope is postage paid.
Test kits are available for pick-up here:
Buck Moorhead Architect, 245 West 29th St Room 1203, Manhattan.
Times for the week of March 16 to 20…only:
Monday, March 16, from 5pm – 7pm
Tuesday, March 17, from 4pm – 6pm
Wednesday, March 18, from 12pm – 2pm
Friday, March 20, from 10am – 12pm
You can also get a test kit mailed to you from DCS by paying $15 via the DCS Donate page or by mailing a check to our Narrowsburg office:
DCS
PO Box 35
Narrowsburg, NY 12764
The test starting instructions are very important, please read them. Although you will be testing for Radon coming into your residence through your gas stove, the placement of the test kit remains the same as when testing for Radon infiltrating a residence from the ground. Do not place the kit in the kitchen, as humidity from cooking can enter the kit and cause low readings. Place the kit in the dining room or living room area at about breathing level if possible. If that's not possible, anywhere that's not too close to the ceiling or floor is acceptable.
Your participation acknowledges DCS can use the resulting numbers of the test, it will not use your name.
If you have questions, please email dcs@DamascusCitizens.org
Our best regards,
B. Arrindell
DCS
DamascusCitizens.org
Download this letter, in full, including information on radon and references
Lung Cancer in NYC Kitchens – 6 Videos on the Effects of Radon