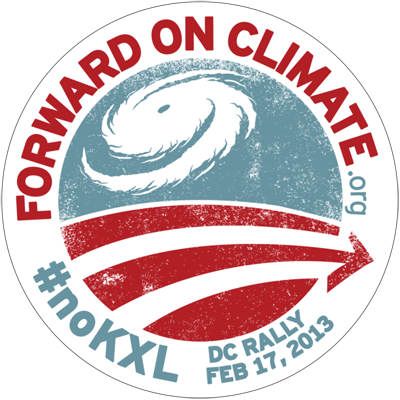 President Obama must move Forward on Climate with decisive action to reduce ruinous carbon pollution. Obama's most lasting legacy will be his leadership in the face of an unstable climate future. He can start with that most egregious violation of our planet's health, the Keystone XL tar sands pipeline.
It is fully within Obama's power to reject, with the stroke of a pen, the Keystone XL pipeline.
Will he reject it? Why shouldn't he reject it?
Whose interest would he serve by letting the Keystone move forward?
Join the Largest Rally in History for a Stable Climate
The President's daughters, and their children, present and future generations around the world deserve a livable climate. This should be a no brainer. So,
Join United for Action, 350.org, Sierra Club, and hundreds of other groups to lend Obama the courage of OUR conviction. A COURSE CORRECTION on CLIMATE is NECESSARY NOW
Sunday, February 17. Here are the busses.
Related topic: Divesting from Fossil Fuels
Tuesday February 5, 2013
This is an event hosted by The Cooper Union Institute for Sustainable Design and presented by NYU Divest. The event will feature a talk about divestment by climate change author and activist Bill McKibben followed by an open conversation with a panel of NYC student leaders. Musical guest Kevin Fitzgerald Burke will perform his inspired piece "Wandrin' the Gasland".
"Climate change is the great moral issue since apartheid, and we need the same kind of tools to bring it to people's attention." – Desmond Tutu
When: Tuesday 2/5/13 at 7:00 pm
Where: The Great Hall at Cooper Union at 7 East 7th Street
Directions: 6 train to Astor Place, or N/R to 8th St.
You may wish to RSVP to this free event: NYU Divest
— Owen and the United for Action Team