We received no response to our first letter. This second letter reiterates the potential for exposing NYC households to dangerous levels of radioactive radon and includes many additional signatories.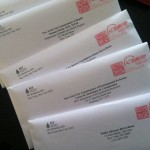 Click HERE to read the full letter, including related Block Association letters and all signatories.
Read the Press Release here.
For additional information:
NY groups: Radon in Marcellus gas could jeopardize public health
Radioactive elements in Marcellus gas warrant new study
July 31, 2012
The Honorable Christine C. Quinn
Speaker, City Council of New York
250 Broadway, Room 185
New York, NY 10007
Dear Speaker Quinn,
We are following up on the letter sent to you several weeks ago from a large group of
concerned organizations, businesses, legislators, residential groups and health
professionals regarding having joint Health and Environment committees City Council
hearings on radon in natural gas from Marcellus sources coming to NYC.
Since we have not had a response, we are re-sending our original letter to you, as well as
this summary with additional signatories we have collected since the letter was sent to
you on June 1st. In addition to the individual signatories who have signed this letter since
June 1st, 16 block associations and larger residential associations, legislators, and more
businesses have shown their growing concern over radon in incoming natural gas and
desire for further information that would be provided by a hearing. The list of businesses
includes health professionals, restaurants, and professional business people of all sorts.
Some of the public health, financial and other concerns that need exploration in a hearing
are the following:
• the potential for exposing every New York household that uses natural gas to
dangerous levels of radioactive radon;
• the potential health impacts to vulnerable sectors of the public especially children,
and to some workers, namely maintenance, subway, and restaurant workers;
•the risk of thousands of additional cases of lung cancer must receive a proper
health assessment;
•potential financial risks to the City and Con Ed;
•lack of definitive information in the public documents as to when, from where and
how Marcellus shale gas will be brought into the City via various pipelines
including the new Spectra pipeline;
• the issue of radon pollution in natural gas has been ignored in environmental
impact documents and further brushed aside by the FERC in its public hearing
processes;
• what, if any, options are there to protect public health.
Radon hazards NY Times article http://www.nytimes.com/2012/03/29/opinion/
To summarize our request, we again respectfully ask that the New York City
Council Committee on the Environment and Committee on Health are allowed to hold
Joint Hearings on Radon in Natural Gas from the Marcellus Shale coming to New York
City. NYC public as well as health and energy policy makers must be given the
opportunity to hear the concerns raised in relation to these issues and what the options are
to protect public health. We look forward to working with you on this matter and request
the favor of a reply.
Sincerely,
Barbara Arrindell, Director
Damascus Citizens for Sustainability – email: DCS@DamascusCitizens.org
Joe Levine, Director
NYH2O – email: info@NYH2O.org
Following are the additional signatories to June 1 letter requesting Joint hearings on
Radon in Marcellus gas as of July 26, 2012 – complete June 1 letter is included with this
second letter as are the actual letters sent from the Block Associations.