Daily News
Why the State of New York is completely ignoring the Hazen and Sawyer report on this issue is just another fracking mystery.The final NYC DEP report was released 12/23 stating that 6,000 gas wells in the city's watershed would pose "catastrophic risks" and must be opposed.
---
City and state are nearly 7 miles apart on the need to keep fracking away from the water supply
Tuesday, October 11th 2011, 4:00 AM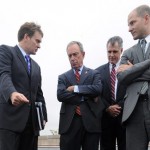 New York City's chief water protector is raising a critical question about plans for intensive natural-gas drilling upstate:
Could tremors from the process known as hydrofracking damage the city's underground aqueducts, disrupting their all-important billion-gallon-a-day flow?
City Department of Environmental Protection Commissioner Carter Strickland's concern must be thoroughly studied and fully addressed before Gov. Cuomo allows the first well to be sunk.
At issue is a drilling technique known as high-volume hydraulic fracturing – fracking, for short – which holds the potential for tapping huge reserves of clean-burning natural gas across central and western New York.
The method involves drilling thousands of feet deep, then pumping chemical-laced water into wells at high pressure – strongly enough to crack the surrounding rock and release pockets of gas.
What effect this activity might have on aging concrete water tunnels occupying nearby rock, no one can be sure – because the situation has never come up before.
To head off this possibility of damage, the DEP asked the state to prohibit fracking within 7 miles of any aqueducts or other water infrastructure — a distance longer than 90% of the known fault lines and fissures in the surrounding bedrock.
The state responded by proposing a buffer of just 1,000 feet – less than 3% of what the city asked – in which drilling might still be allowed with special permission.
"Inadequate," was the city's judgment, as voiced by Strickland at a hearing last week.
He added that the 7-mile figure was "conservative" and announced that the city had commissioned a further study of how big a no-drilling zone should be to keep the water supply safe.
That study must be thorough. Because the water supply for millions of New Yorkers is too precious to put at risk.