Kristen Nuss, Sun Gazette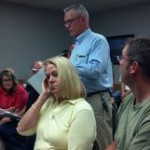 It was standing room only at the Loyalsock Township building Tuesday night as the supervisors held a public hearing regarding a proposed amendments to the township's zoning ordinance.
The amendments, which were tabled by the supervisors following the hearing, would pertain to gas and oil activities within the township. Currently, according to Steve Holmes, zoning and codes officer, the township does not have any ordinances pertaining to the natural gas industry.
"This is a needed ordinance because presently we do not have anything," Holmes said. "All we're going to do without an ordinance is end up with more legal appeals and action."
The ordinance amendments limit certain activities to specific areas of the township, primarily avoiding densely populated areas with small lots of land.
Several residents commended the supervisors for addressing this topic, but many felt the ordinance as currently written does not go far enough.
"I don't like this ordinance. This is not even close to what we in Loyalsock Township should have," one resident said, garnering applause from several other residents. "We need a very strict ordinance, in my humble opinion."
Another township resident, Richard Shank, who recently filed an appeal to reverse a decision by the township to allow an injection station to be built near his former home on Liberty Drive, said the ordinance did not go far enough to protect residential areas of the township.
"Why would you even consider putting any of this near a residence?" Shank asked. "The encroachment on residential areas does not have to happen like it is."
According to real estate records filed at the Lycoming County Courthouse, Shank recently sold his Liberty Drive home to NFG Midstream Trout Run for $350,000. At Tuesday night's hearing, he listed a Warrensville Road address as his current address.
Holmes answered several questions from residents and reminded them this ordinance is a stepping stone.
"This is a starting point," he said. "We need to get something on the books."
Addressing many of the residents' calls for a stricter ordinance, township solicitor Charles L. Greevy said there is only so much the township is allowed to legally regulate with regard to the natural gas industry.
After the supervisors indicated they would not vote on the ordinance, Bill Burdett, township manager, recommended they have Greevy review the Gas and Oil Act.
"We really need to know what we can enforce," Burdett said before the supervisors voted 5-0 to table action on the ordinance.
Jeff Rauff, chairman, thanked all of the residents for coming out to voice their opinions and reminded them that the supervisors also are township residents.
"We're here to do what's best for the township," Rauff said, "Believe me, we're your neighbors."